What Our Patients Like Most About Our Pharmacy
We would love your feedback! Please let us know how we are doing and leave us a review below.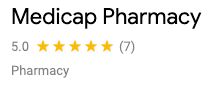 "Spanish Fort is fortunate to have such a professional and community minded pharmacy! Just love the staff and appreciate the help they have given our family over the years."
"Always helpful and works well with insurance and doesn't seem to have many issues that some pharmacies have. They even deliver in the Spanish Fort area, and are close enough to Daphne that I suggest it to the Daphne area citizens as well! Thanks medicap!"
"So thankful to have such a wonderful pharmacy in Spanish Fort! The staff is always so helpful and kind. Highly recommend!"
"Great local pharmacy with friendly, helpful folks! Thank you!"
"Best pharmacy I've ever used! Need to know about drug interactions? Need help getting a refill -- when there's an insurance and/or doctor issue? Too sick to even pick up your meds? This is the place to go. Karen Kight and crew are always willing to lend a hand."
"Excellent customer service! I appreciate the thoughtful and proactive approach"
"Caring staff that knows you by name and takes time to check drug interactions...truly exceptional pharmacy..."
"Pharmacist Karen Kight goes out of her way to help make things right."
"Medicap Pharmacy is exceptional on every level. Owner Karen Kight is not only a wonderful, knowledgeable, pharmacist but she is the kindest, caring, helpful, and dedicated person that I have ever met."
We would appreciate your feedback to share on this page of our website. We'd like to let others know what our current customers have to say about Medicap Pharmacy! Thank you in advance for your time and consideration.