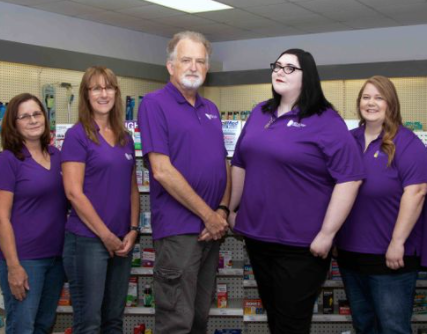 Medicap Pharmacy provides quality medicine and supplies in Spanish Fort and surrounding communities. Whether it is filling a prescription, looking for the right over the counter medication, or a simple health question, our expert pharmacists stand committed to providing high-quality quality health services — at budget-friendly prices. We believe that no two patients are alike — and neither are their treatment plans. Medicap Pharmacy offers programs to help you receive prescription and care services tailored to your unique health needs. Whether you need your medication delivered in a special formula or help managing a complex treatment regimen, our pharmacists are working for you.
Our pharmacy is dedicated to the wellbeing of your family and the wellbeing of the community. That's why we offer services such as immunizations, medication therapy management, multi-dose packaging, medication synchronization, important health screenings, and expert care. We strive to make it convenient for you and the people you care about to live a healthy life. Think of us as your community healthcare destination.
Karen Kight, RPh
Karen graduated from the University of Florida in 1988. After, she married Roger Kight in 1991 and relocated to Spanish Fort, AL in 1993. Karen worked for chain pharmacies until she opened a Medicap Franchise in February 1999. Roger and Karen have 2 children, Lane and Ann Marie. They are very involved in the Spanish Fort community, their public schools, and pharmacy events.
Roxanne Burns, CPhT
Roxanne began working at the Spanish Fort Medicap in 2000 and became a nationally certified technician in 2011. Her husband was a member of the US Coast Guard, and after retiring, they settled in Fairhope. They have 3 children and 5 grandchildren. She splits her time between working at the pharmacy and taking care of her grandchildren. She is an accomplished seamstress and enjoys spending time making quilts.
Leslie Green, Pharmacy Technician
Leslie began working at the Spanish Fort Medicap in 2014 as a part time cashier and later trained to be full time technician. She lives in Loxley and takes care of her father and 3 children. She is a Taekwondo black belt candidate and will test in October 2017 for her 1st degree black belt.
Tom Brasher, RPh
Tom graduated from Samford University in Birmingham, AL in 1982 and worked in the Birmingham area until 1991. After, he moved to Mobile Infirmary and later transitioned to Daphne. Tom began working at the Spanish Fort Medicap in 1999 when the pharmacy opened. Currently, he works two days a week at the Spanish Fort Medicap and the night shift at Mobile Infirmary Hospital. Tom is an amateur photographer and loves bird watching. In the future, he looks to travel in his new RV with his wife Cynthia. He has three children and one granddaughter.